Our stry.
Allow us to Introduce Ourselves.
There's "Ice Cream Sandwich," and then there's RUBY JEWEL.
Our founder, Lisa Herlinger, noticed a lack of premium ice cream novelties in her local grocery stores. By elevating the ice cream sandwich to new heights, she created the RUBY JEWEL.
At Ruby Jewel, we're dedicated to bringing the most DISTINCTIVE and DELECTABLE ice cream sandwiches to our growing community of fans. We bring PURE JOY to your freezer with classic and innovative flavor combinations using premium, locally sourced, clean ingredients. Our delicious cookies pair with unforgettable ice cream to create an UNAPOLOGETICALLY INDULGENT experience like no other.
If you're looking to satisfy your sweet side, why not go all the way?  INDULGE IN A RUBY JEWEL.
Use arrows below and get caught up on how we got to where we are today.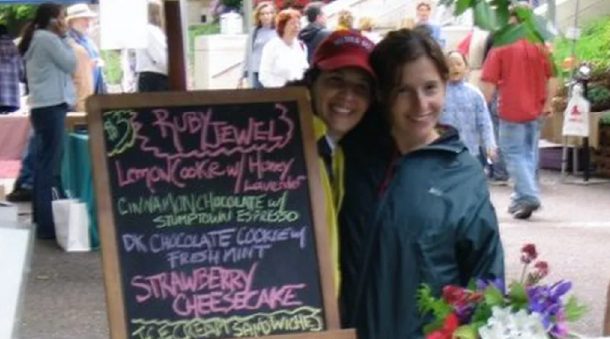 Ruby Jewel Makes its Debut at the Portland Farmers Market
Lisa Herlinger launches her homemade premium ice cream sandwiches with two original flavors - Lemon Lavender and Chocolate Mint.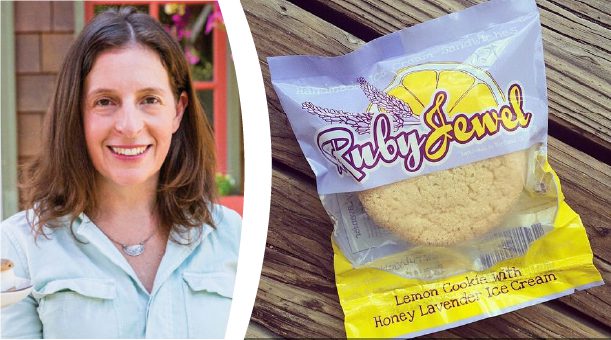 Time to Make Things Official
After winning the "America's Food Fight" culinary competition at the OSU Food Innovation Center, Lisa uses the prize money to secure our first production facility and create our initial packaging design.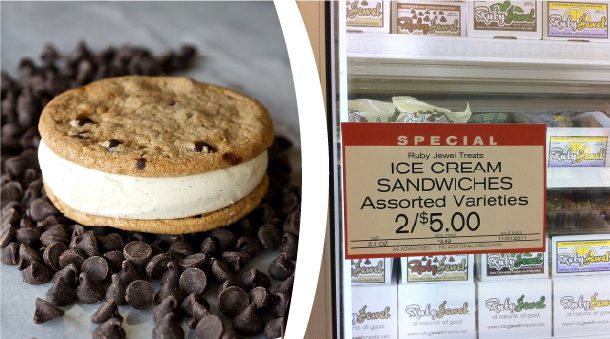 We Perfect "The Classic"
Ruby Jewel becomes available on grocery store shelves in the Portland area, launching with a premium take on "The Classic," chocolate chip cookies with vanilla bean ice cream.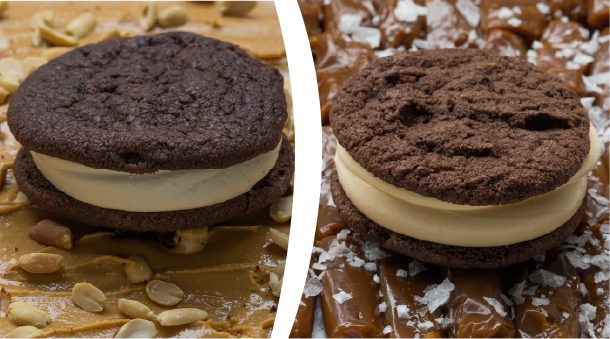 Flavor Innovation Tastes So Sweet
New flavors Salted Caramel and Peanut Butter become available, much to indulgence seekers' delight.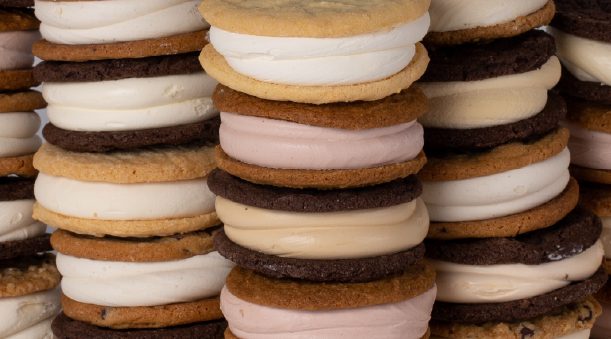 Our Growth is Unstoppable
Ruby Jewel becomes available through foodservice channels, spurring a need for increased production to keep up with demand.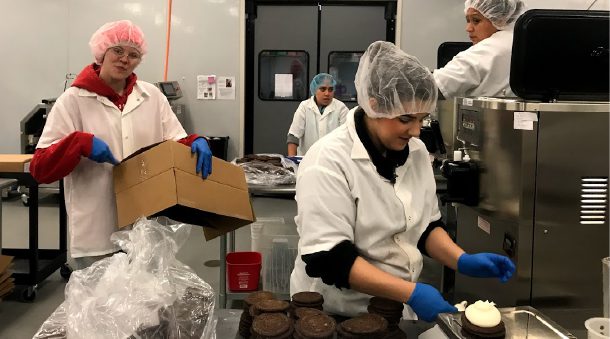 Welcome to Sandwich City
New equipment and a larger facility allows Ruby Jewel to increase production and spread PURE JOY throughout the Pacific Northwest.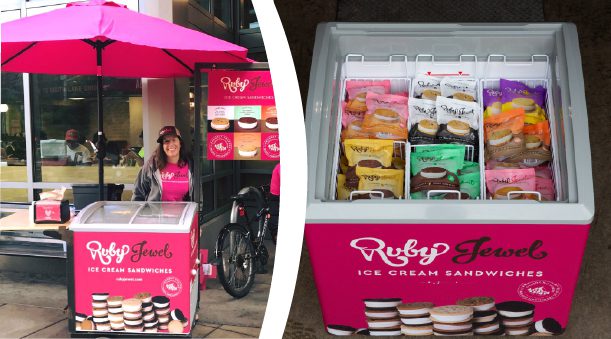 The Jewel Box is Here
Our Jewel Box freezers begin appearing in venues around the Pacific Northwest.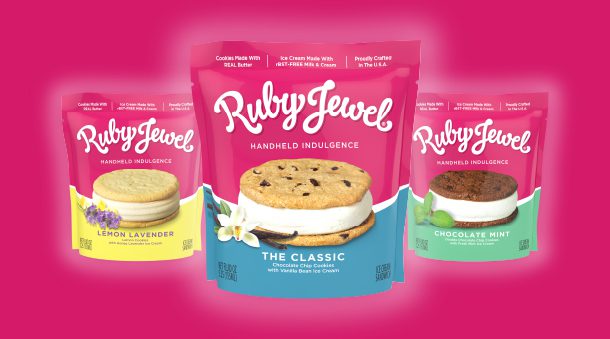 A New Look
Ruby Jewel gets a fresh new look debuting new packaging that creates an unmistakable presence on store shelves.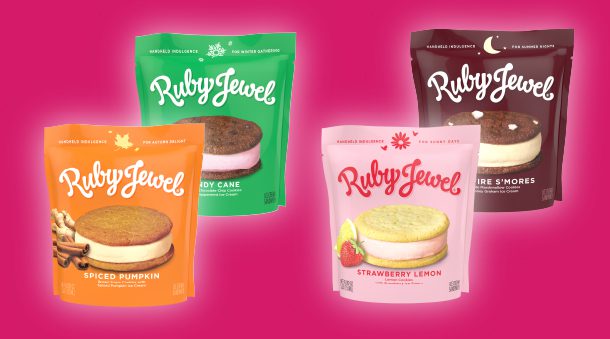 Seasonal Indulgence Lands On Shelf
Ruby Jewel introduces four Seasonal Ice Cream Sandwiches, starting with Pumpkin Ginger and Candy Cane during the holiday season, with Strawberry Lemon and Campfire S'mores landing on shelf in mid 2021.
Ruby Jewel - Now In A Freezer Near You
With bold new packaging, Ruby Jewel lands first national distribution through Sprouts Farmers Market, making Ice Cream Sandwiches available across the United States.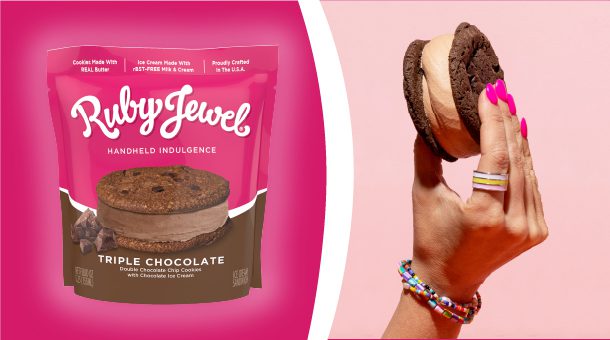 More Handheld Indulgence on the Horizon
Ruby Jewel introduces Triple Chocolate to our newfound national audience and continues to innovate with new Ice Cream Sandwich flavors (coming soon).
You know that Ice Cream Sandwich you just ate? We made that just for you. Nice to meet you/you're welcome.
Favorite Sandwich: Chocolate Mint
Favorite Sandwich: Peanut Butter
Favorite Sandwich: Butterscotch
Favorite Sandwich: Salted Caramel
Favorite Sandwich: Strawberry
Favorite Sandwich: Campfire S'mores